Integrate with your Cloud Apps and automate WooCommerce
Via Zapier, link your WooCommerce store to thousands of cloud apps.
Speed up your procedures by immediately letting Zapier do the job for you.
WooCommerce Zapier: WooCommerce two-way synchronization and thousands of cloud apps
Any time a new order comes in a new customer makes a transaction or changes the status of an order, set up an automation once and let it run indefinitely instead of making the same changes.
Just never miss a move. Let one event cause several changes in several apps in WooCommerce, so you don't miss a thing.
At crucial moments, take the steps needed. Reduce the abandonment of shopping carts by acting rapidly on cancelled orders, following up with customers right after they buy, and more.
Notify the right members of your team efficiently, and only the right ones.
Automate with Acts and Triggers
Configure triggers to automate behavior when items in WooCommerce shift.
Example 1: Automatically add the customer to the CRM (MailChimp) (action) when you get a new order (trigger).
Example 2: Automatically generate a unique deal coupon (action) when you get a new customer (trigger), then email the coupon to the customer (Gmail) (action).
Integrate with thousands of applications from the cloud
Zapier allows you to connect your WooCommerce store to thousands of cloud apps for two-way integration. A few common examples: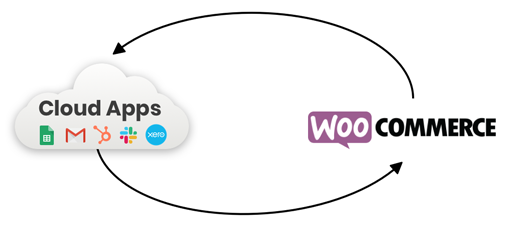 Sheets: Sheets from Google, Sheets from Zoho, Excel
Email: Office 365, Gmail, Mailparser
Sales & CRM: HubSpot, MailChimp, AWeber, Active Campaign, SalesForce
Support: Freshdesk, Slack, Zendesk, Support Scout
QuickBooks, Xero, Freshbooks Accounting:
Phone & SMS: Twilio, SimpleTexting, ClickSend SMS
Projects: Asana, Trello, Basecamp
Social: Facebook, Twitter, Instagram
Google Docs, Google Drive, Dropbox: Content & Files
Automate your Shop for WooCommerce
Double-way automation for:
Triggers upon which you may operate
Orders: generated, deleted, charged, restored, status modified, updated
Coupons: produced, removed, restored, refreshed
Customers: developed, deleted, refreshed
Products created, removed, restored, refreshed
Subscriptions: created, removed, failed to renew, renewed, modified status, switched, updated
Coupons: build, discover, update
Customers: produce, discover, upgrade
Orders: Making, searching, upgrading
Products: generate, discover, update
Subscriptions: making, searching, upgrading
Core WooCommerce for all currencies, delivery methods and payment gateways for WooCommerce.
Supported extensions include: Subscriptions, Classes, Product Add-On Gravity Templates, Product Add-Ons, Checkout Field Editor, Pro Sequential Order Numbers, Pre-Orders, Order Status Manager, etc.